The Dowager's Dream, Miriam Hastings' latest novel, has been published in paperback by FeedARead Publishing. It's also available on Kindle: The Dowager's Dream.
In a crumbling mansion on the north coast of Scotland, the Dowager grows old; exiled there by her son, the Laird, she dreams of her girlhood and waits for death, but when the tenants keep talking of a monster in the sea, she becomes obsessed with the strange creature living in the bay beyond her windows.
The people claim the sea monster portends disaster and they are right for the Laird has grand plans to improve the estate. He intends to evict all the tenants from their crofts in order to turn the land over to an army of sheep.
Can the Dowager stand up to her unscrupulous son? If she does, she may have to pay a terrible price.
Whether she is writing from the point of view of a patient in a mental hospital (as in her novel The Minotaur Hunt), a child in foster care (in her short story 'The Doll'), or a minister's daughter living on the north coast of Scotland in the early 19th century (her short story 'Mermaid on Ice'), Miriam Hastings is always concerned with portraying the experience of the outsider in society; giving a voice to the powerless and the oppressed.
Walking Shadow, Miriam's first historical novel, was published in November 2019 under the name of M W Hastings, and is available direct from FeedaRead Books as well as through Amazon. It is also available on Kindle.
Miriam's first novel,The Minotaur Hunt, was originally published by the Harvester Press, it was shortlisted for the Betty Trask Award and won the MIND Book of the Year Award. Sadly, soon after publication Harvester were taken over by Simon & Schuster who closed their fiction list and so the hardback edition of the novel is now out of print, although it's often available secondhand from amazon and other online stores. A freshly revised digital edition with a new afterword is now available on Kindle (The Minotaur Hunt) and Kobo (The Minotaur Hunt), and a paperback edition has also been published.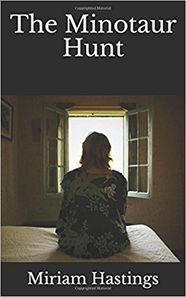 Three surreal tales by Miriam Hastings are available on Kindle: The Doll and other stories: Strange tales. Also on Kobo: The Doll and other stories: Strange Tales